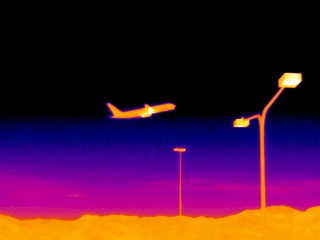 TURN IT ON, SEE THE THREAT.™
Thermal cameras integrated with high definition cameras, enterprise level software, and encrypted networks provide needed reliable detection where there's no margin for error. Nuclear, energy, chemical, and transportation industries are examples of critical infrastructure where the highest levels of thermal security for enhanced protection are needed. Some environments for high level security include:
Anti-terrorism

Military vehicles

Surveillance and security

Electronic news gathering

Airport and tarmac

Transportation surveillance
A New Kind of Perimeter Protection
A number of perimeter detection security systems including microwave, coax/fiber/seismic sensors, and radar will provide only a minor level of perimeter security insufficient to protect valuable assets. Lumistar thermal intelligent video cameras can operate in any environment under the worst of conditions such as humidity, rain, bright sun, and fog which traditional CCTV cameras prove useless providing poor dim images, and false alarms.
Our cameras are impervious to wind, unimportant movements of leaves, small animals, or trees, but at the same time accurately detect human threats of all imaginable possibilities over long rang up to 5,800 feet. Optical CCTV cameras can see approximately 300 feet, especially if the camera is surrounded by expensive, attention getting, and intrusive lighting. With Lumistar thermal intelligent video solutions no light is necessary. Our cameras are like a viper waiting for prey, 24 hours a day. Say goodbye to nuisance alarms, instead decrease overhead costs, increase your bottom line, and protecting your assets with high degree of accuracy.
High-tech peace of mind is what Lumistar offers. Our Lumistar thermal intelligent video camera systems use geo-registration with GPS analysis to determine the size, speed and bearing of detected objects to increase accuracy, auto steer PTZ cameras, and project the location of targets onto a site map of the facility.
Request more information.